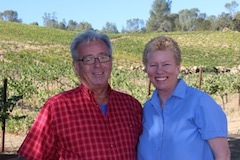 25 years of experience in the North Coast Winegrape Market.
Brokers of premium winegrapes, bulk wines and finished wines.
---
Rick Gunier
Rick Gunier is building on a 35-year career — including 20 years in the winegrape industry –executing successful marketing and advertising programs for independent entrepreneurs across the country. Rick has extensive experience in event planning, from small intimate wine tastings to major events, including all coordination of annual conferences, vendor shows and PR events. He is skilled at promotion, recruitment of keynote speakers, speech writing, stage design, and PowerPoint presentations.
Rick is a past member of Wine America's Washington, DC, lobbying group as well as a past member of the California Association of Winegrape Growers 2007 Unified Symposium Program Committee. Rick is also proficient in appellation development, winery compliance issues, and economic development/planning issues.
Equally at home with making sales calls and analyzing data, Rick stays up to speed on traditional and new millennium research tools and approaches.
He is fanatical about better understanding the winegrape marketplace every day, every month, every year – and, as a result, has successfully helped his clients' brands grow.
---
Shannon Gunier
As president of the Lake County Winegrape Commission for the past 20 years, Shannon Gunier managed all of the Commission's activities, helping to direct the growth of Lake County winegrape industry from 3,000 acres in 1991 to more than 8,300 acres in 2012.
Since its' inception in 1992, the Lake County Winegrape Commission has marketed the premium Lake County winegrape growing region to new and existing grape buyers and wineries all over California. In 1992, Lake County had three wineries and $3 million in grape sales. Today, Lake County winegrape sales have grown to over $40 million, and growers sell grapes to over 132 wineries in 22 states and Canada. The price of Lake County Cabernet Sauvignon has grown from $350-$500 a ton to $1,800-$2,700 per ton. Lake County prices are the third highest in the State.
Shannon has returned to work with her husband at North Coast Winegrape Brokers. Her diversified background will include new projects for the company such as new territory development, promotion and advertising, targeting primary and secondary markets, vertical marketing, lead generation, customer service, client training and consulting, social media and web-based marketing.
For any questions on winegrapes, juice or bulk wine, please contact Shannon by phone 707-995-1505 or email shannon@northcoastwinegrapes.com
---