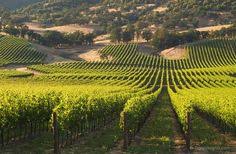 The state of Oregon in the United States has established an international reputation for its production of wine. Oregon has several different growing regions within the state's borders which are well-suited to the cultivation of grapes; additional regions straddle the border between Oregon and the states of Washington and Idaho. Wine making dates back to pioneer times in the 1840s, with commercial production beginning in the 1960s.
American Viticultural Areas entirely within the state include the Willamette Valley, Southern Oregon, Umpqua Valley, and Rogue Valley AVAs. Parts of the Columbia Gorge, Walla Walla Valley, and Snake River Valley AVAs lie within Oregon. Pinot Noir and Pinot Gris are the top two grapes grown, with over 16,000 tons (14,515 metric tons) harvested in 2005. As of 2005,[dated info] Oregon wine makers produced over 1.5 million cases combined.
With 303 wineries in Oregon, a tourism industry has developed around wine tasting. Much of the tourism focuses on the wineries and tasting rooms in and around the Yamhill Valley southwest of Portland. In 2004, enotourism contributed an estimated USD $92 million to the state economy, excluding winery and tasting room sales.